Look in this veterinary journal publication for an article on our biosecurity within the herd:

http://www.xlvets.ie/userfiles/file/XLVets%20ROI%20Livestock%20Autumn%2011.pdf




Every breeder will tell you how great his/her Angus cattle are, in their opinion. But they don't focus on what problem they can uniquely best solve for you. Here is an attempt at articulating what Dalriada can do for you, a little bit better than the next guy :
1. Quality.
We have invested a lot in proven genetics. We sell a higher probability of success because we don't use genetics that are unproven. Two of our current stock sires are on code-share with Ireland's leading AI company, Bova AI.
Size is easy, style is easy. But to get style and quality to co-exist in an Angus is hard. That's what we do.










One of the girls here with Dalriada 695. Winner at multiple national shows throughout 2011 through 2015.



2. Cost.
Because we run a large-scale, commercial operation we can afford to sell quality Angus cattle at a much more attractive price than a small-scale supplier.
3. Selection.
With 170 pedigree Angus cows to go in calf in Autumn 2015, we hope we offer a broad selection. One size does not fit all. Whether you want the biggest bull for cows, the most stylish heifer for shows or the easiest calver for dairy, there is a strong chance we have it.
4. Convenience.
With Angus farms in both Limerick and Laois it's not too far from you, if you decide to take a look before settling on what to do feel free to contact us with any questions.

Other info :

The choice of herd name :- "Dalriada" is commonly viewed as having been an Irish Gaelic colony in Scotland. The inhabitants of Dalriada are often referred to as Scots. Angus was one of the Dalriadan kings. So the confluence of Ireland, Scotland and Angus seemed appropriate.




* Alan Morrison with Dalriada 549, winner of the "All Ireland Aberdeen-Angus bull born after Sept 08". By Nord out of a Cruz cow.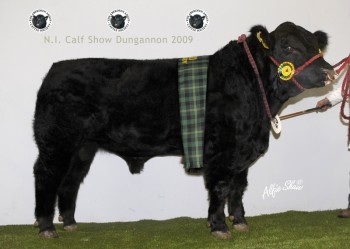 * Congrats to Lawrence Farrell with Ballykillduff Emperor, by Dalriada 321 out of Dalriada 327 cow who got the top price at the recent Angus Elite Sale. Good genetics in the hands of a great cattle family, the Farrells.
2009 & Overall Angus Champion at Tullow Show 2009.


Meehans have been butchers in Rathdowney since the early 1900s. That brings you the benefit of that expertise in our offering of pedigree Angus breeding stock. With farms today in both Laois and Limerick we are within driving distance of most people.
At any time there is probably one great sire standing in AI. Every bull is described as outstanding, but few are. Great sires are usually like painters; only recognised after they are unavailable. The competence of our Angus breeding has been to identify and pick those great sires while they are still available and use them extensively.
To be used by us a sire must display exceptional length, breadth and height. He must stamp his offspring and his grandchildren. When we sell a son or daughter of this sire, we depend on his good genes coming out on your farm, against your cows.
Some of the great lines we have used have been Fordel Eisenhower, Dalrene Cruz and Netherton Missie 114.
Congratulations to Alan Morrison from Northern Ireland who got reserve champion N Irl Angus Shows with cattle he purchased from us; Dalriada Milly, P-Boy and Anna.